Summer was dying down and nothing too interesting was happening in the world of sports. That is, until the fight. Yes, possibly the biggest fight ever, featuring Floyd (Money) Mayweather and Connor McGregor. Millions tuned in to watch the huge event. There are several reasons why the fight was publicized so much, the main one being that Floyd Mayweather came out of retirement to fight his 50th fight. Bear in mind at this point Mayweather is 40 years of age, and never lost a fight in his life. Connor McGregor, on the other hand, is only 29. However, McGregor is a UFC fighter, and given that this was a boxing match, it seemed that despite the age difference these two competitors were pretty even.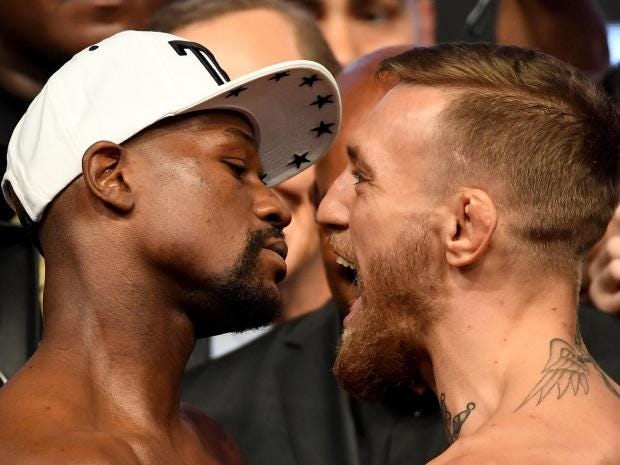 I will be breaking down the fight round by round.
Round 1: Not much excitement here, the two competitors were mainly feeling each other out, although McGregor threw about 30 punches. Winner: McGregor.
Round 2: A lot of the same as in round 1, McGregor keeps throwing punches and continues to rough up Mayweather. Winner: McGregor.
Round 3: McGregor continues to throw and starts incorporating a lot of MMA moves, such as hammer fists, which in a boxing fight are dirty. Finally, it looks like Mayweather wakes up. He lands a few jabs, but McGregor quickly switches up his stance, preventing Mayweather from landing any more hits. Again, McGregor wins another round making him 3-0.
Round 4: McGregor continues to dominate Mayweather by forcing him back to the ropes and attacking relentlessly. Mayweather does his best to counter and lands a few jabs and a couple nice rights. McGregor narrowly wins this one, making him 4-0.
Round 5: This is where things get interesting. McGregor clearly is getting tired. It looks like Mayweather's plan is starting to take form. Mayweather lands a few nice punches and wins the round making the score 4-1.
Round 6: Mayweather continues to go on the offensive with a number of blows to both McGregor's head and body. At this point in the fight, Mayweather continues to show why he is one of the best, despite McGregor's numerous taunts, such as sticking his tongue out at him. Again, Mayweather takes another W making it 4-2.
Round 7: At this point, both fighters are gassed, but because McGregor was so aggressive towards the beginning of the fight, he has significantly less energy than Mayweather. McGregor is too tired to fight back as Mayweather starts to go on the offensive and starts landing blow after blow. Mayweather is the clear winner in this fight, making it 4-3.
Round 8. McGregor seems to have a resurgence of energy, despite very obvious signs of fatigue. He surprises everyone by landing a few body shots. However, Mayweather gets McGregor into a clinch and lands a solid uppercut. This round was practically a tie, but Mayweather had a slight edge, tying it up at 4-4
Round 9: Mayweather lands a big right hand to the face of McGregor. McGregor is too tired to do anything at this point so he just tries to clinch, again and again, trying to limit a number of opportunities of being stricken by Mayweather. At this point the outcome of the fight becomes rather evident as Mayweather seems to stalk McGregor, attacking and attacking his fatigued opponent. McGregor could barely hold on at this point and grabs the rope to keep up. This is a huge round for Mayweather as he easily takes the round, winning five in a row and making it 5-4.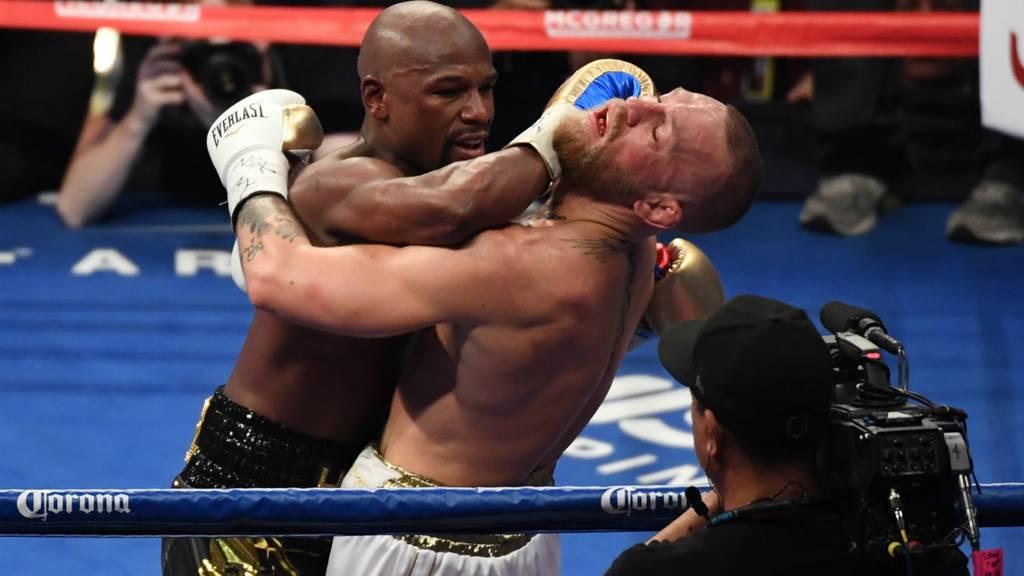 Round 10: This is the final round. Keep in mind, this is the farthest that McGregor has ever gone in all of his 24 fights in the UFC, and it really shows. Mayweather gets McGregor on the ropes and goes to town! He unloads on McGregor as McGregor stumbles away from him. The referee calls the fight, and Mayweather walks out of the arena a champion, and with a cool $350 million, just some like pocket change.